Use motion sensor of dual shock 3 playing neverball
Submitted by
Acxie
on Sat, 08/14/2010 - 05:37
MotioninJoy v0.6 add the motion sensor in custom profile.you can remap the Front-tilt,Back-tilt,Left-tilt and Right-tilt to any game controller axis or mouse move or keyboard button....
Neverball is a 3D platform game similar to Super Monkey Ball.Neverball is free software under the terms of the GNU General Public License (GPL). Tilt the floor to roll a ball through an obstacle course before time runs out. Neverball is part puzzle game, part action game, and entirely a test of skill.you can download  it from here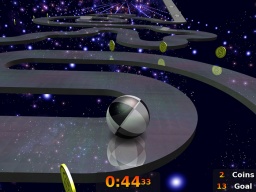 Run DS3_tool and go to custom profile editor page.
Click the "default" button to remap all as default layout.
Then close the left stick map and remap the motion sensor to gamepad axis x and y  as folllowing.
Save the custom profile and name it as "Neverball". Click the "Enable" ,now you can go to "game controller panel" and test your profile.If it is correct you can use motion sensor of your ds3 playing Neverball.